10 PR Campaign Examples to Take Notes from 
Every business wants to build remarkable PR campaigns to build and improve their relationship with stakeholders. But among all the campaigns ever created, some have remained extremely popular. And besides topics like the pandemic or social, political, and ecological issues, communication specialists and marketers are still influenced by some PR campaign examples that are worth considering when creating a new strategy.
Thus, in this article, we will showcase 10 PR campaigns that can easily become pillars when building your communication strategy.
But first, let's see what a PR campaign is.
What Is a PR Campaign?
A PR campaign can take various forms, but it represents a combination of actions that have the same goal of building, improving, or expanding a brand's relation with its relevant audiences.   
While PR refers to how a brand communicates to keep its reputation, it is fair to say that PR campaigns are built to keep that reputation high and even improve it. Usually, such campaigns can include practices such as content, engagement with the audience, feedback, and communication of values.
During a PR campaign, actions are planned so the brand can get publicity over a set period.
While considering building a PR campaign for your brand, it is essential to note that the main goal is not to ask users for something, such as clicking on a link, creating an account, or purchasing a product. Instead, PR campaigns are created to generate dialogue on a topic that is of interest to the organization. It may be to help consumers learn more about a specific business or generate media attention about an activity.
Why Is PR Important?
PR campaigns can bring significant benefits to brands all around the world, regardless of the industry we are talking about.
Usually, there are some primary objectives that PR campaigns should follow, and these include:
Gaining attention from both potential customers and investors;
Building a customer base;
Increasing consumers' interest in your brand;
Building and improving your brand identity.
Reaching these goals will most certainly push your business higher and potentially bring new customers. Furthermore, maintaining your reputation will benefit your brand in the long-term time frame.
Top 10 PR Campaigns Examples of All Times
Ikea – #Stay Home
The COVID-19 pandemic has become a reference point for advertising, especially online. And Ikea proved to excel in encouraging people to stay home by building a worldwide campaign called #StayHome. The campaign started in Spain, one of the countries that COVID-19 hit the hardest, and was named #YoMeQuedoEnCasa.
Afterward, Ikea transformed the Spanish campaign into an international one, naming it #StayHome and offering consumers new perspectives on what it is like to stay home during quarantine. The commercial displays various purposes of a house, such as a place where children grow up; everyone can be themselves and stay safe when something bad happens. The speech was built from a house's point of view, and its central idea was that one's house will always be there for one.
The campaign video was first posted on the IKEA España Twitter account and has had 1 million views during the first week of the campaign.
Why Did It Work?
Ikea's #StayHome commercial arrived at the perfect time, making the campaign popular among worldwide users. Furthermore, Ikea's approach came in to help consumers look at the quarantine concept from a different point of view instead of considering that staying home is suffocating and sets limits to their everyday life.
ALS Association – ALS Ice Bucket Challenge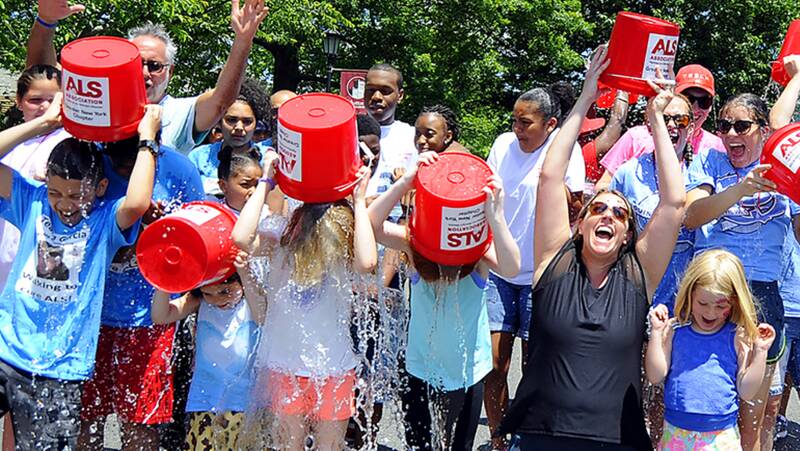 The ALS Association is an NGO (non-profit organization) fighting for people diagnosed with ALS (Amyotrophic Lateral Sclerosis). However, besides aiming to help those who suffer from ALS, the association also knows when to start a worldwide trend. And one example is the ALS Ice Bucket Challenge. The campaign raised over $135 million in an extremely engaging way, and according to RTI International's report, the research spending has increased from $6.6 million in 2013 to $19 million in 2018, thanks to the funds raised through the campaign.
The Ice Bucket Challenge implied challenging people to pour a bucket of ice water over their heads. If they were not willing to do that, they had to donate a specific amount of money to the ALS Association. The challenge became so popular that even Bill Gates filmed himself completing it after being challenged by Mark Zuckerberg. The co-founder of Microsoft designed a device that helped him complete the Ice Bucket Challenge and then nominated Elon Musk, Ryan Seacrest, and Chris Anderson to enter the Ice Bucket Challenge train.
Why Did It Work?
The ALS Association tried to find a fun way of raising awareness around Amyotrophic Lateral Sclerosis, and so it did. People felt intrigued by the challenge they were supposed to complete, and the fact that public figures entered the Ice Bucket Challenge turned it into a milestone among the last decade's trends.
Lego – Rebuild the World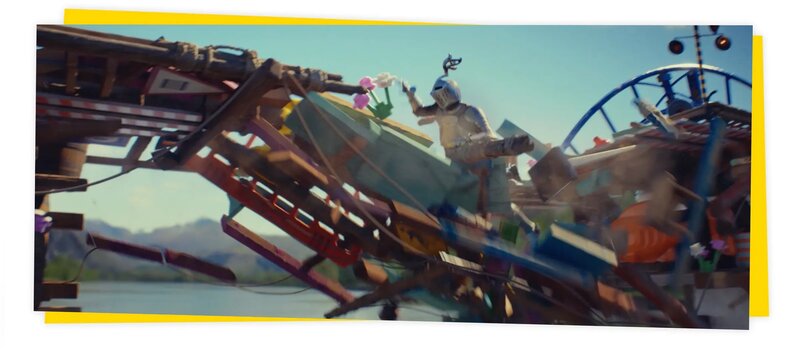 Lego has become extremely popular all around the world. And even if the colorful building pieces were primarily designed for children, adults cannot stay far from the fantastic games Lego creates. After 30 years without global brand campaigns, Lego revealed a new PR campaign in 2019, which is called Rebuild the World.
Once Lego's campaign was active, people were amazed by the universe created in the commercials. Instead of featuring static Lego bricks, the company went way further and created a live-action adventure that follows the story of a rabbit chased by a hunter with a bow and arrow. The main character finds innovative ways of running from the hunter, and the commercial has a funny and unexpected ending.
Lego's "Rebuild the World" campaign was extremely successful, especially on Twitter. According to the platform's marketing team, the positive sentiment for Lego-branded keywords increased by 35%, and research shows that the #RebuildTheWorld hashtag was used 100,000 times only during the first four days after launch.
Why Did It Work?
Lego managed to display the countless ways of using its products through a PR campaign that not only encouraged consumers to purchase Lego's products but it also had a more subtle meaning, namely the fact that people can change or even rebuild the world. Lego's creativity made its campaign successful, and we can still see ads related to Rebuild the World.
McDonald's – We Hire People
McDonald's is one of the most popular fast-food restaurants in the world. And besides delivering products that so many consumers enjoy, the company also provides many job opportunities, considering its size.
In 2022, McDonald's built a PR campaign called We Hire People and focused on emphasizing its values, diversity, and inclusion by displaying people of various ages, different genders, and with various hobbies, styles, or nationalities. The main idea McDonald's aimed to promote was that it does not hire specific types of candidates, but they hire people.
Watch the video on Ads of the World.
Why Did It Work?
McDonald's found a dynamic way of assuring potential employees worldwide that it is not looking for specific qualities or skills. This approach proved beneficial for the fast-food chain, as it also tackled some contemporary social issues.
Coinbase – Super Bowl QR
In 2022, Coinbase proved that simplicity and authenticity are two essential qualities a brand should have.
During Super Bowl, Coinbase promoted an ad displaying a colorful bouncing QR code. Whenever users scanned the QR code, they were accessing Coinbase's website, which had a limited-time offer of $15 worth of free Bitcoin for new signups and a giveaway that users could enter.
Coinbase's PR stunt was so successful that the app was down for a short period due to too much traffic. The traffic coming from the QR code was six times higher than the previous high of traffic, with over 20 million people visiting Coinbase's website during only 1 minute. While working on bringing the Coinbase app back to its working state, the company reacted quickly by displaying the following message: "Well, that was more popular than we thought".
Why Did It Work?
For its Super Bowl ad, Coinbase chose simplicity, which intrigued so many users that the app was overloaded by the traffic it received. This great PR example shows us how important it is to stick to simplicity and let consumers' minds do the maths.
Dove – #TheSelfieTalk
Everyone wants to look flawless on social media. And Dove has tackled this issue in the PR campaign example we will discuss. In 2021, Dove built a campaign called #TheSelfieTalk, and its primary goal is to raise awareness around the pressure girls feel regarding how they look on social media. According to Dove's research, by the age of 13, 80% of girls distort the way they look online. And Dove's answer is: "Let's change that".
With a powerful message, the global brand has built a meaningful commercial showing a girl performing "the reverse selfie". Basically, from a photo that was too edited, she turns back to her natural looks by going through a reversed process.
Dove's campaign achieved 6 billion global impressions, while the brand affinity increased by over 20%.
Why Did It Work?
Dove managed to send a compelling message through a subtle and short commercial. The way Dove has talked about young (and not only) girls' insecurities and challenges regarding their online content has proved to be remarkably engaging for consumers. Furthermore, Dove has joined other brands that fight for the way users choose to edit their online content.
United Nations – Pause
The United Nations tried to find an engaging way of making everyone aware of the speed with which misinformation is spreading. And their "Pause" campaign has become extremely popular worldwide.
With the help of major social media platforms such as Facebook, Twitter, YouTube, and TikTok, the UN showed users how important it is to pause and reconsider the origins of certain news, as well as to #TakeCareBeforeYouShare.
Why Did It Work?
The UN Pause campaign mostly worked because the organization found a suitable way of delivering a serious message about a concerning matter with the authentic soft touch of the United Nations. Furthermore, the UN has got the great help of the most popular social media platforms, and by promoting the campaign all over the internet, the intergovernmental organization managed to deliver its message to a tremendous number of users multiple times.
Spotify – Wrapped
These days, everyone uses at least one streaming platform. And Spotify tried to improve the user experience even more by developing Spotify Wrapped.
Spotify Wrapped became one of the key marketing strategies for Spotify and a viral campaign for worldwide users. Spotify users can learn more about their listening behavior over the past year, including the artist they have listened to the most or the most streamed song.
Spotify Wrapped has seen great success ever since 2015, when it was first launched. For instance, in December 2019, the campaign was mentioned in over 1.2 million posts, and in 2020, Spotify's mobile app downloads increased by 21%.
Why Did It Work?
Spotify has found a way of making the most out of personalization. And users love it. The fact that you receive customized stats about what you have listened to during the year that is about to end makes you want to listen even more. For instance, if your favorite artist is Imagine Dragons, but your 2022 song was Enter Sandman, wouldn't you want to change that in 2023?
Stabilo Boss – Highlight the Remarkable
Stabilo is one of the most popular highlighting pens manufacturers in the world. And its PR campaign idea proved to be as remarkable as its name. "Highlight the Remarkable" aimed to promote some of the most influential female figures in history by using Stabilo's main product – highlighter pens.
Featuring black and white photos of certain events, Stabilo highlighted women such as Katherine Johnson, the Nasa mathematician who completed the calculations for Apollo 11's safe return to Earth, or Edith Wilson, the First Lady who assumed her husband's presidential responsibilities after a stroke paralyzed him.
"Highlight the Remarkable" was a great success for Stabilo Boss. The campaign recorded 15 million Twitter impressions and an interaction rate of 27%.
Why Did It Work?
Stabilo managed to promote its products in a highly intriguing way. Furthermore, the company tried to do that while aligning with the trend of making remarkable women popular.
Coca Cola – Share a Coke
During its "Share a Coke" campaign, Coca-Cola decided to slightly change the design of its bottles by changing its name with common names so that it could get closer to consumers.
The campaign was extremely successful, with over 125,000 social media posts referring to "Share a Coke" during the first month only. Furthermore, 12% of the online conversation about Coca-Cola at that time could be attributed to the campaign.
Why Did It Work?
Coca-Cola has found a pretty engaging way of promoting its products to consumers worldwide. The company has used marketing personalization wisely, and it made consumers feel special once they saw their name on a bottle of Coke.
Final Thoughts
PR campaigns are a great way of engaging worldwide users, and brands try to come up with new and bright ideas each year.
While some companies try to build various PR campaigns to promote their values and products, others stick to the ideas that work best for them and always try to improve them.
Now, it is time to discover this year's Spotify Wrapped. Go for it!