6 Tips to Improve Your Display Ads   
I dare you to count all the ads you notice in one day while browsing on your devices!
Just by thinking of this challenge, we can simply realize how vast and essential the digital marketing field is for businesses worldwide, no matter their size or the market they are working in.
Display ads started to make their way to the top more than 20 years ago. Throughout this whole time, they have evolved and complied with the internet's trends and requirements, making lots of people and businesses interested in running their campaigns. The numbers are high and promising; last year's global ad spend for display advertising was $244 billion, and in 2024 it is expected to increase by almost 45%.
Running a display ad may not seem that hard, especially with easy-to-use platforms and tools. However, creating a strategy that works best for your business and goals is a little harder. If you have a new business or you're just looking for new tips to improve your display campaigns, stick with me. We've prepared something to help you.
Before getting into that, it is only fair that we define what display ads are and how they can help you to engage more customers.
What is a Display Ads?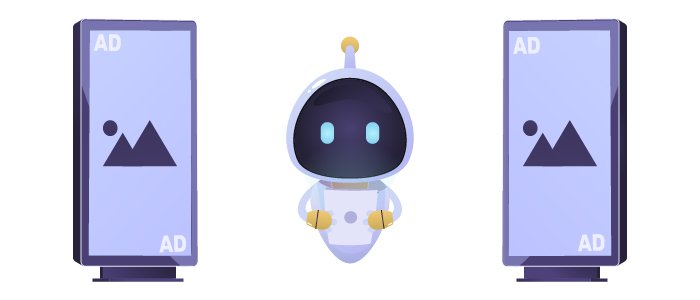 When we say "display ads", we refer to any form of online advertising that uses graphic design elements (texts, photos, videos, animations, etc.) to engage online users. They can be static (png/jpeg) or dynamic (videos, gifs, HTML5), and you should be aware of the sizes you can use for your design since every website has certain ad formats it is working with.
When deciding what type of ad you want to run, you must set some goals. For example, maybe you are new on the market and need awareness for your brand, or you are trying to increase the number of orders on your website. One of the concepts you can use when finding the best way to promote your business is called the Customer Journey.
What is the Customer Journey?
A customer journey (also called customer/sales funnel) helps us visualize a user's steps, from the first interaction with a brand to becoming loyal and even recommending it to someone else.
Let's say you are an online user. Your journey as a customer consists of 5 steps:
Awareness – you see/hear about the brand for the first time;
Consideration – you interact with the brand (you access their website/landing page, follow their social media accounts, etc.);
Purchase/Conversion – you buy from the brand;
Loyalty – you like what you bought, and now you decide to continue ordering from them;
Advocacy – you enjoy your experience with their website/products, so you choose to talk about it with your friends.
Following these five steps, we have prepared some tips you can use to improve your display ads and, this way, let more people meet and choose your brand.
Tips to improve Display Ads
1. Use simple visuals
Designs are constantly changing, yet there is one principle that remained constant and influenced several trends throughout the years – simplicity. And you should stick to it; especially if you are at the top of the Customer Journey, in the Awareness phase.
Even today, one of the most beloved trends in graphic design is minimalism, and let's think about it; with so many ads all over the internet, is it worth creating complex visuals for display advertising?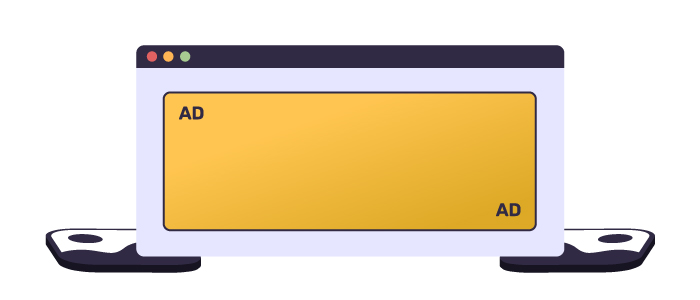 Your banner's design should draw the user's attention and make them click on your ad without overthinking it. You should also pay attention to the colors you use. Even if you already have a color palette, there are some specific shades you can work with to send a specific message.
Don't add elements just to "make it pop". Stick to your brand identity and make sure you use white space wisely, directing the users' focus towards the CTA and the main message. And no matter what, don't forget about your logo. You need people to know who they are meeting.
Last but not least, use qualitative images that won't distort when displayed on various screen sizes. We live in a mobile device era, so always consider the responsiveness of your ads.
If you don't have the resources to create your banners, you can work with specialized platforms in order to get stunning designs with ease. For example, Google's Display Ad Builder is an excellent yet underrated tool that can help you create banners for your campaign in minutes.
Besides your design, you should stick to simplicity regarding your CTA, too. The key is to always keep in mind that less is more.
2. Choose the right ad formats
Each ad network supports certain ad formats. Though it may sound just right to use more of them, you first have to think about what kind of campaign you are running and what is the best for its success. Thus, you will make sure your money doesn't go to waste. 
Don't use many ad formats, but always split-test your campaigns. This way, you will be able to discover which formats work best for you. And it is crucial to know your investment is working, especially when you are in the first phase of the Customer Journey. But you also have to make sure that users receive a complete and consistent message.
Let's say you manage a dancing school, and you decide to build a display campaign. Would it be worth it to promote an image ad? How about using a making-of video to show users what your dancing classes are like? For us, it is crystal clear. You need meaningful ads to engage potential customers; you need your ad to describe your brand as much as possible. Moreover, you need your services to be intriguingly displayed to make users simply say "wow!".
Using multiple formats blends perfectly into a split testing campaign and can help you discover what type of display advertising campaigns work best for your business.
3. Split test your display campaign
Always remember: test, test, test! Creating the perfect campaign from the very first try is next to impossible. That's why testing is such an important process in the marketing world, especially when you reach the Acquisition phase. You need to know what ads to deliver in order to engage the most users.
The best way to reach the optimal campaign, banner design, or call to action is by experimenting with multiple variants. And that's precisely what A/B testing (or split testing) does.
Instead of working on just one design for your banners, try to create 2 or 3 of them. Run them all at the same time and see which one performs better. Once you have a clear winner, stop the two campaigns that are underperforming and put all your budget into the winning one.
However, keep in mind that you should test the impact of a single element.
That means that only a single element should be different across your ads, be it the text, the CTA, the banner design, or the banner size. Otherwise, you may find yourself in a situation where you don't know what to optimize.
Testing must become one of your closest friends because it is the most effective way to improve your ads.
4. Target your audience properly
Properly targeting your audience is a pivotal step in creating your campaign. Knowing which audiences convert the best on your website can maximize your ROI with little effort. And this is where the power of Google Analytics comes in.
All the data about the behavior and demographics of your users helps you create strong customer personas. Crafting messages specifically for those audiences and targeting them with your banner ads will increase your chances of a successful display advertising campaign.
However, be aware that the audience targeting options can vary depending on the advertising network you are using.
5. Make remarketing your key weapon
Remarketing is the most effective campaign you can run as an advertiser, regardless of your brand's size or experience. And when you find yourself getting to the "Purchase/Conversion" step of the Customer Journey, you must build a remarketing campaign, as you need to increase conversions for people who visit your website.
The chances of raising your conversion rate are considerably higher when delivering your ads to users who have already expressed an interest in your brand/product. And if you are questioning remarketing's power, just think about the fact that only 2% of website visitors are converting when first engaging with the brand.
6. Know your customer's behaviour
When you reach the Loyalty or Advocacy goals, you can say your ads have seen success. The secret is to aim higher than you already are.
So, what if you've got some conversions from your ads? Can't there be more?
Try and keep your new customers close to you and help them bring more clients to your business.
Take Revolut as an example. For each friend you refer, you get a sum of money, but only after they complete some specific actions on the app: order a physical card, use it at least three times, etc.
This way, Revolut not only gets new clients, but they make you engage more with their app and stay with them. Moreover, they quickly get the new customer to the Conversion stage.
If you're wondering how you can do that, let me clarify: it actually isn't that different from the steps you have already passed during the first part of the Customer Journey. But there is one more thing you must focus on when trying to acquire even more customers.
Each new client you win is like an open book to you. You can analyze them by the order they placed and their behavior on your website. To achieve that, you can use Google Analytics, and we highly recommend doing so. Google gives you detailed insights about customers' activity on your website, such as:
The location of your customers;
The pages they visited;
The average time they spent on your website.
By analyzing these insights, you can learn more about your customers' behavior, and you will better know what to do to turn your customers into brand ambassadors.
Moreso, you can try to use heatmaps, scroll maps, or click maps. They can help you notice the biggest points of interest in your website. After that, you can use the information gathered to build your display campaign.
Final Thoughts
If you follow some essential tips, display campaigns are not that hard to build.
Remember that less is more and try to keep your designs and your CTAs at a minimal level.
Be careful when you target your ad's audience. This can help you spend your money in the healthiest way.
Count on remarketing campaigns when you want more customers, and always give them the customer journey they need to become loyal.