Why Meme Marketing doesn't work for your business (and what can you do about it)
Memes have been around for longer than we thought. Yet, they have begun to stand out from a marketing standpoint in the last few years. But is Meme Marketing the secret to your business success?
Well, the short answer is "probably no".
Going back in time, internet users were initially able to access the content given to them through read-only websites. But as Web 2.0 became dominant and social media platforms became the norm, the content posting dynamic changed permanently, paving the way for meme marketing.
Nowadays, every internet user can share their thoughts and ideas on the internet. So, the internet became rapidly flooded with images with repetitive jokes (sometimes slightly altered) that got the sort of attention that brands could only dream of.
Challenges, jokes, videos, photos, and all sorts of content formats and shapes gain worldwide popularity overnight, without investing a single penny, all while engaging a tremendous amount of people. These are the memes and the power they hold.
Naturally, as marketers, we have noticed this phenomenon and tried to boost sales and brand engagement for our companies. And, as we know, some attempts were successful, and some failed miserably.
Therefore, in this article, we will look into what memes are and how useful they are for a brand.
What is a meme?
A meme can take the shape of a joke, a concept, or a catchphrase, and is posted online mainly for humorous purposes. Memes are usually represented by photos, but they can also be videos, GIFs, or just texts. They can quickly get famous, and they spread uncontrollably through imitation, from one person to another.
Memes have quickly gained remarkable popularity thanks to the way they are spreading. And also, there are some specific characteristics memes have that make them a powerful way of increasing a brand's online reach:
They can be easily imitated and adapted to a business's concept;
They are quickly shared between multiple online channels;
They can apply to recent events or popular culture.
Memes have become a significant part of the content distributed online, and there is no wonder why this happened: people are happy to interact with them, and brands can gain much popularity by creating their versions of a new trend.
Thus, memes have come quite a long way; nowadays, 73% of all mobile users share memes on social media.
But not all the funny stuff we see online is a meme. So, where is the thin line between memes and similar content?
What is not a meme?
It is fair to say that memes are usually represented by an image with some text. For sure, GIFs, videos, and simple texts have gained popularity over the years, but the first memes were just images containing texts.
However, not all images with text are memes, even though the confusion is often made. There are pictures with added texts that could not be further away from being called memes.
The correct term for this kind of content is image macros, and even if someone tries to call them memes, their brands won't get any chance of becoming viral with this type of image. Indeed, some image macros are memes, but this does not work the other way around.
What is meme marketing?
As time goes by, memes keep growing in popularity among worldwide marketers. And it is so clear why this is happening. Just imagine that the CTR of a meme campaign is 14% higher than the one in email marketing. The main benefit of memes is that they give you a much more significant way of engaging with your audience.
Basically, meme marketing means using memes to promote your brand and its beliefs. By using marketing memes, not only do you increase the traffic on your social media accounts, but you also use an affordable way of promoting your brand's narrative as part of your marketing strategy.
Of course, content marketing memes may prove themselves favorable for a brand's social media strategy. But which are the benefits that support their effectiveness the most?
Memes bring engagement
Thanks to their funny approach to a brand's activity, a trend, or a real-life event/struggle, memes can help businesses raise engagement on their social media accounts.
While an average person spends around 147 minutes on social media daily, it is pretty easy for users to engage with humorous content, be it images, GIFs, videos, or simple texts. Thus, including memes in your strategy may bring you some more impressions, but only when done right.
They can make your brand relatable
As social media platforms are constantly changing and evolving, the approach brands have to the way they are communicating with online users is changing too. Marketers choose to use a funnier tone of voice; thus, including memes in their content strategies may be a practical option.
However, it is important not to misuse memes because they can easily throw your brand into a huge scandal.
You can go viral
Memes can help a brand go viral if the team comes up with an ingenious and relatable idea. When a meme is good, the feedback doesn't arrive late to the party. If people love it, a marketer will notice that pretty quickly. Shares will grow, and interactions such as likes or comments will flow. However, if not, the reach will be small from the beginning and will stay this way.
Remember that memes can help the brand only if you use them correctly. It is pretty hard to become viral overnight, but when they do, it is amazing for a business's online growth. There are lots of things you must consider when starting to use memes, so we have prepared some tips to guide you.
Dos and Don'ts of Meme Marketing communication
Memes can turn you viral in a flash, keep you on the same line as before with little to no results, or start a tremendous scandal around your business. For sure, the best possible outcome is to achieve great results through a well-built content plan.
However, to get there, you must pay attention to some things that will help you stay high above the cringe line.
Meme Marketing Dos
Know your audience well
Your audience can be the primary reason why meme marketing may not be a good idea.
When including memes in your marketing strategy, it is important to know the audience you are focusing on. If your content does not comply with the targeted audience, it is highly possible that the posts won't go viral, and you will even lose some potential customers.
If you are trying to figure out whether memes suit your business's concept, you can check the brand voice. If your brand has a relaxed and casual voice or doesn't have a well-defined one, then memes could be a good strategy in the right place, at the right time.
Turning your posts into memes requires an adequate amount of fun to tweak the interest of your audience and make them feel that they have to spread your content further.
Make use of the hot trends
Keeping the brand's online activity up to date using recent events will only bring even more impressions to your posts.
This strategy is called moment marketing, and to get a clearer picture of what it means, let's go back to 2014 when Apple launched iPhone 6 Plus, and they faced quite an unpleasant issue: the bendgate. KitKat's response? Priceless.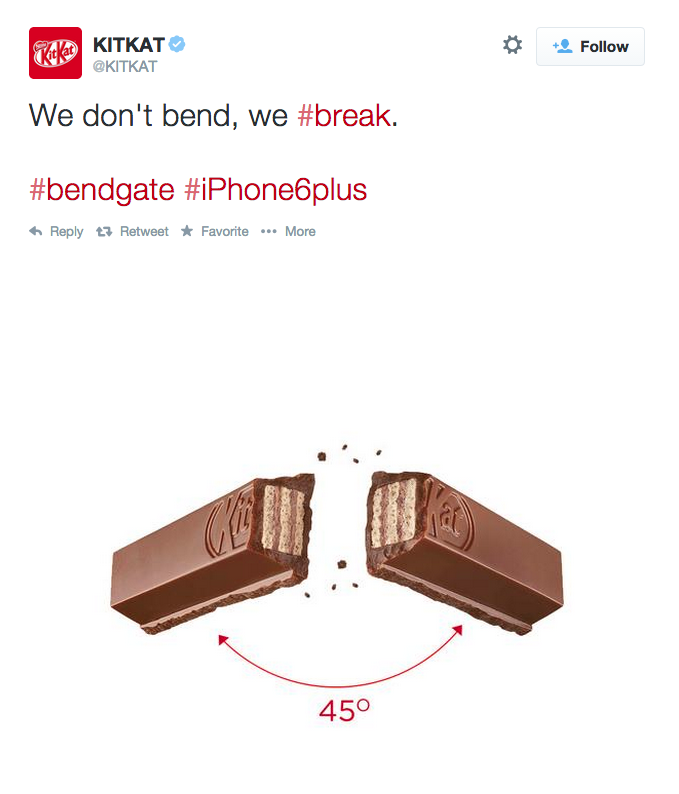 This is the power of a good meme at the right time. And it may not last for long, but the meme will accomplish its purpose in no time.
Be relatable
Keep your content authentic. Stay true to your brand even if you are recreating trends or reposting some good memes you discovered to have good reach. Post memes that can be adapted to your field, the products/services you promote, and your company's beliefs.
Nothing feels worse than a business trying too hard to increase impressions and forgetting where they are coming from and what its goal is.
Check useful insights
Memes should always have a purpose. Try to plan your meme marketing strategy to gain brand-new conversions afterward. Some of the results you can track are the CTR from the social channels, the post's engagement, or the time spent on your website.
Test your memes
When you want a meme to work the best for your online activity, you must test it before making it public to a wider audience. Most importantly, try to find out if the meme is funny, by showing it to others.
After that, your content must be understood by others. You might see it one way, but people who have not worked on creating it will look at it from a different point of view.
Humor is subjective. Therefore, having as many eyes as possible to double-check the content can prevent or reduce the possibility of a disaster, regardless of its size.
Meme Marketing Don'ts
The good practices of meme marketing can help you in shaping a positive social media strategy. However, the line between cool and ridiculous is quite thin when it comes to including them in your content plan.
Don't use memes you don't understand
A good meme can create a buzz around your brand. However, a misused one can drag it down. Thus, don't use a template unless you fully understand it and know it is relevant enough to your brand.
Let's take a look at this meme as an example: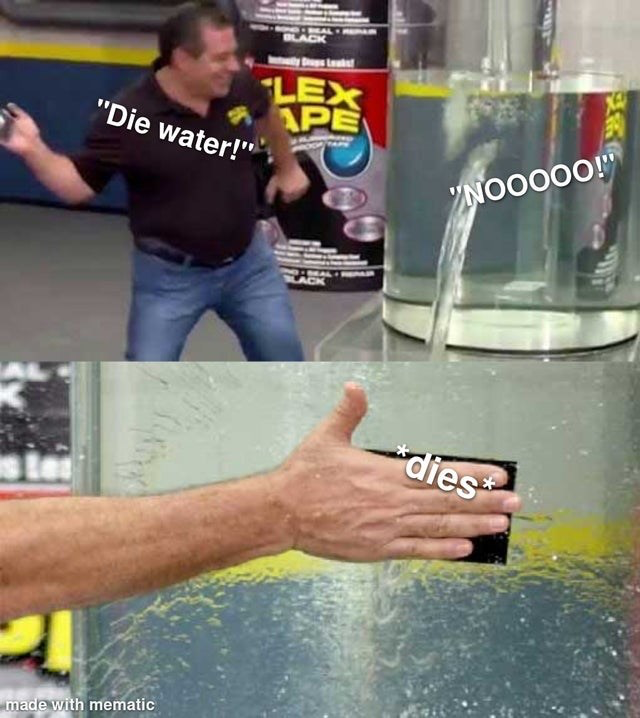 The goal of Flex Tape Meme was quite different. And there have been some really good memes but some bad ones, too, just like the one above. The basic story has been lost along the way when creating this picture, and now there is nothing left to laugh about.
Don't use outdated memes
Memes can get out of date quickly. And using an old meme is just like trying to talk about old news and promoting it as a hot and trending one. The engagement will be pretty low, and your work will vanish.
Remember that most memes have a short life span; thus, try to use templates when they are new and hot. This way, you can keep up with trends and raise your impressions on online channels.
Nonetheless, don't use ideas that are "too" new. There is a high possibility that people will not know their meaning yet, and you will end up in the same situation as when working with outdated memes.
Don't choose quantity over quality
It might not be that good of a strategy to post many memes. Instead, you can analyze the trends and wait for relevant memes to become popular.
Try to deliver less, yet qualitative content instead of posting more boring memes. This way, you will make the best out of this strategy and turn it into a way of increasing the reach of your social media accounts.
Don't copy and paste
When including memes in your marketing strategy, you must ensure that you don't go too far with the topics. Hence, don't copy a meme on your brand's online pages without editing it to comply with the company's characteristics.
Just imagine McDonald's posting a Great Gatsby Reaction meme copied from a plumber firm page. What would be the point, and would it help them engage with their users?
Definitely not. But what if they would take the template and write "Cheers to the ones who ordered every special edition"? Wouldn't it be better for their engagement?
Don't become a meme for something bad
Posting memes on social media is excellent. Becoming a meme for something wrong you have done is not. That is why you should always be careful about what you deliver to the public. People can take some statements the wrong way and spread the word that your brand isn't that good, after all. And that can happen even if you did not do something terrible.
Moreover, becoming a meme can create a lot of lousy engagement around your social media accounts. Thus, always be careful about what everyone can see and know about you. And don't forget, transparency is the answer.
Don't use meme marketing like a magic success formula
Although integrating memes in your marketing strategy may have the potential to jump-start your audience engagement, the results are not guaranteed.
First and foremost, like any marketing strategy, your meme marketing strategy needs to be well thought out from the beginning.
Although you can get lucky and spontaneously hijack the news, if you just happen to share a meme without context, it is likely going to be ignored.
10 Successful examples of Meme Marketing
A lot of brands have started adding memes to their online content. But some of them will remain in history for their meme marketing activity. Let's talk about some successful examples of social media marketing memes.
1. Gucci
Marketers at Gucci have proved to have a pretty good sense of humor. And the impressions are never late for their memes.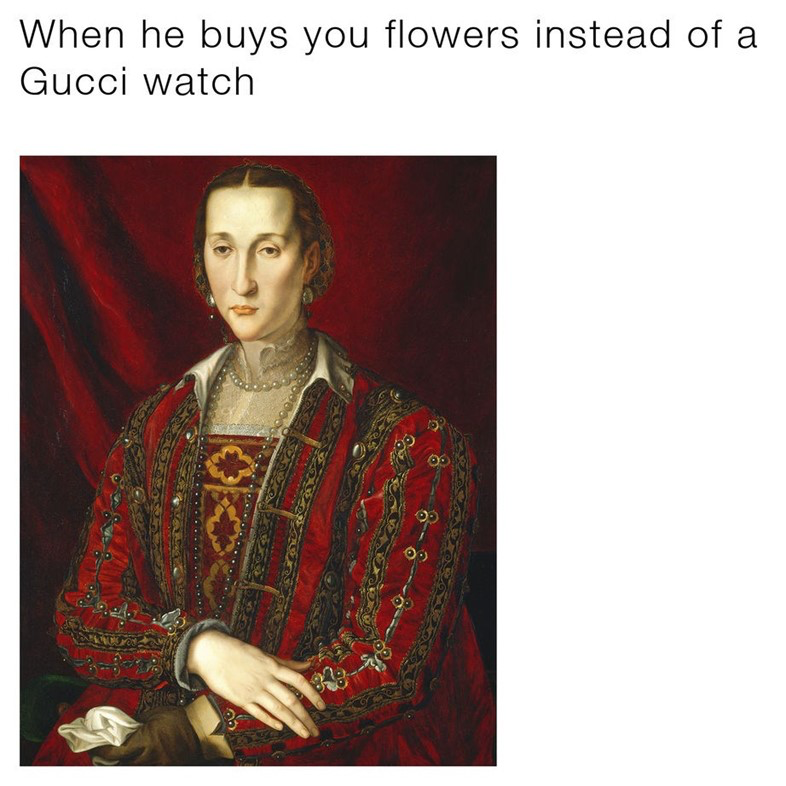 This Tudor painting meme fell at the exact right time when Gucci launched its new luxury watches collection.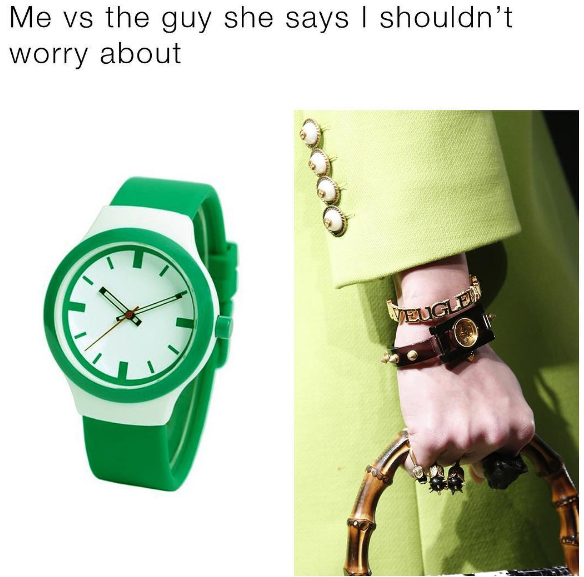 It is a surprising turn that Gucci took with the #TWFGucci campaign. However, it turned out that including adapted memes in their posts was the perfect strategy for their online activity.
2. Denny's
Denny's is well-known for its casual brand voice. Therefore it is no wonder why their audience embraced memes from the very beginning. They are pretty relatable, and Denny's is not trying too hard to create them. It is more of a "go with the flow" approach.
3. Netflix
Funny memes have become a good part of Netflix's content. Being very popular on social media channels, they have managed to gain even more followers through funny and relatable memes. They are an excellent example of a brand that takes advantage of trends and recent events.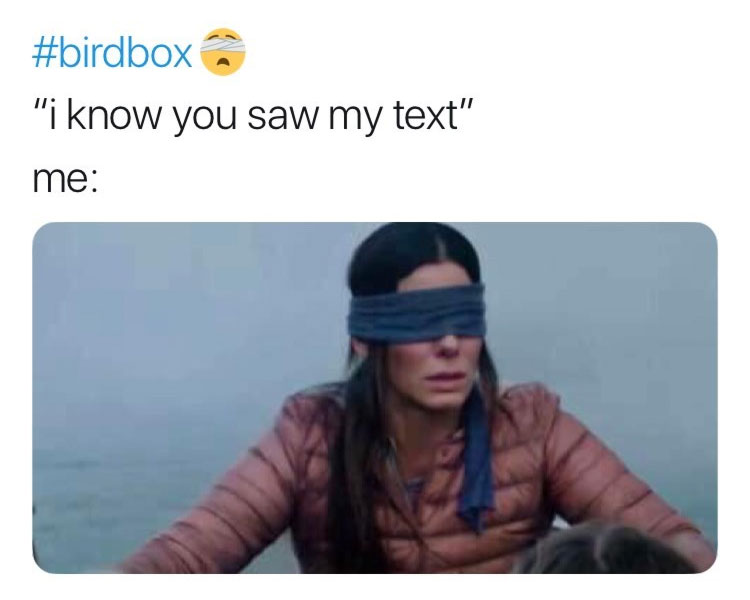 4. Seamless
Seamless has created a strong meme culture over its brand. One good example is their campaign built around the 2014 Oscar nominations, called the #OscarNomNoms.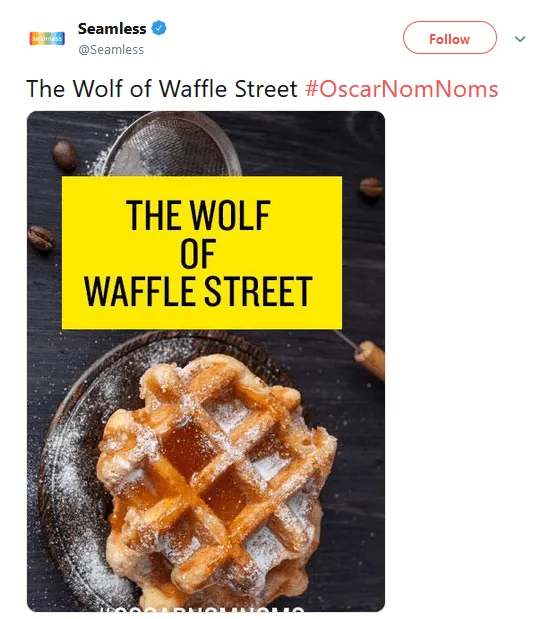 5. BarkBox
The New York-based company has made memes a great way of engaging with its online followers. Sharing their love for dogs through memes turned out to be a good strategy to stay relevant on social media.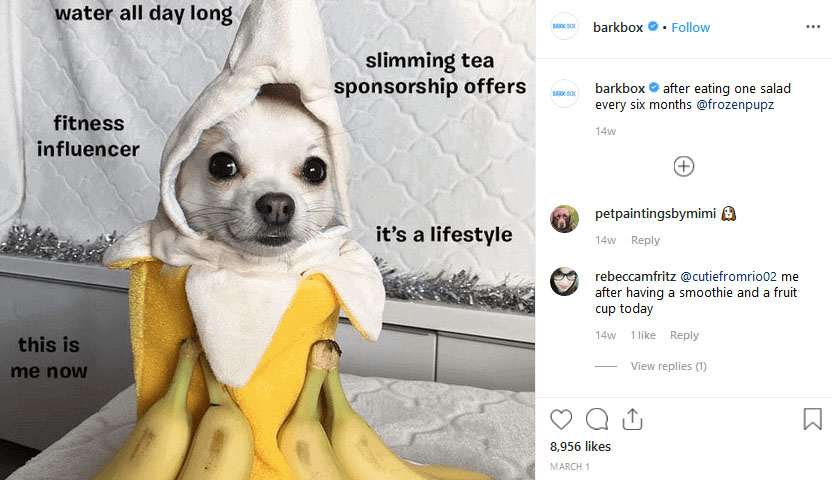 6. Domino's Pizza
Domino's is well-known for its funny tone. People love to interact with their memes, and this is why they won't stop posting them any time soon.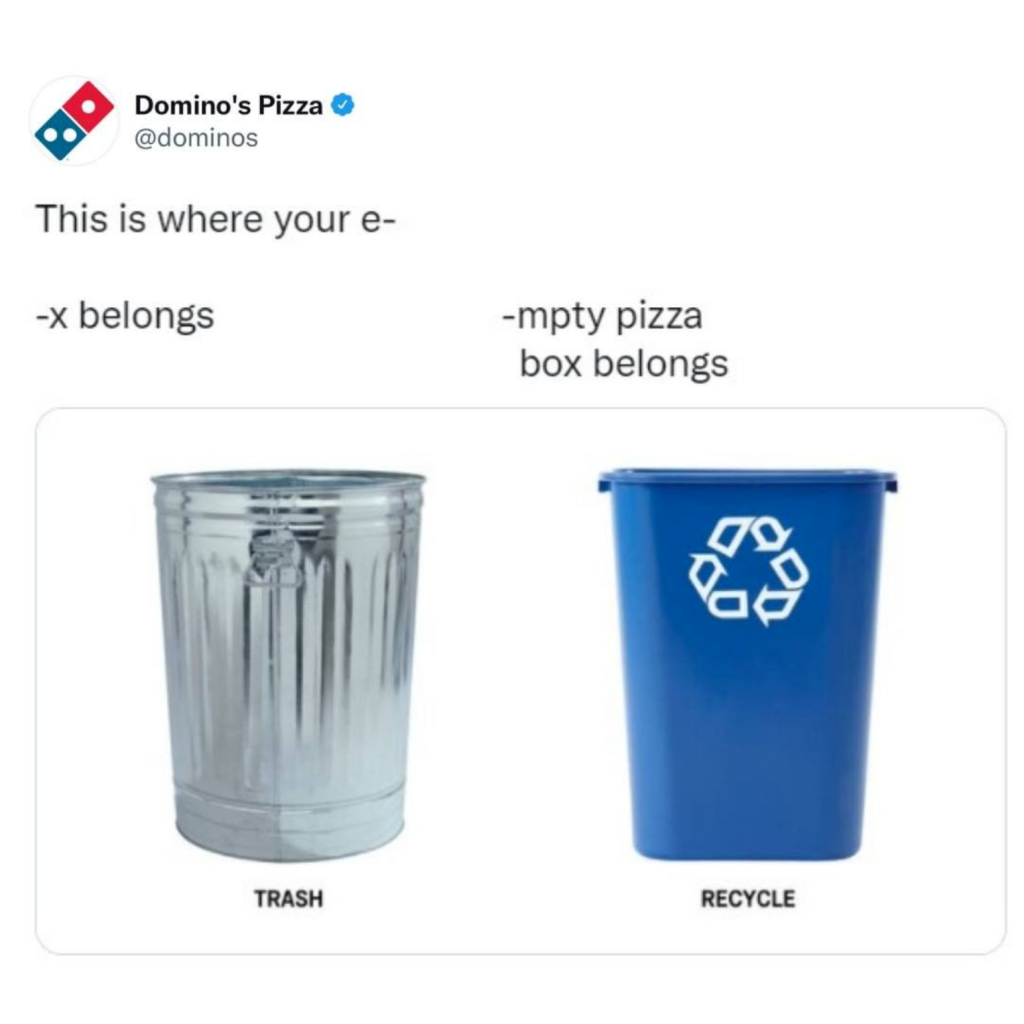 7. ASOS
Asos gained more than 70k likes on Instagram with this cute and relatable meme. They stuck to simplicity and have seen excellent results thanks to that.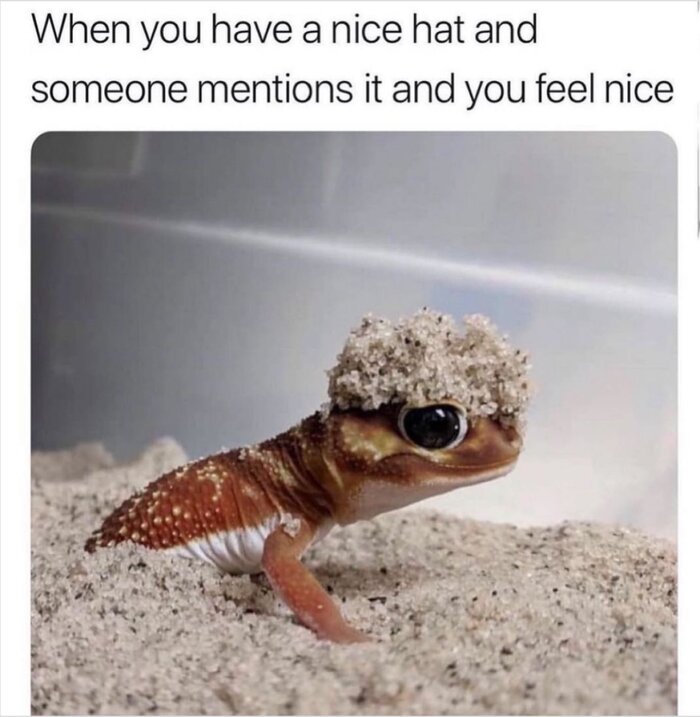 8. Simple Skincare
Simple Skincare found a great way of promoting its products. They chose to use a cute image, which turned out to be one of the best possible ways of engaging with their followers.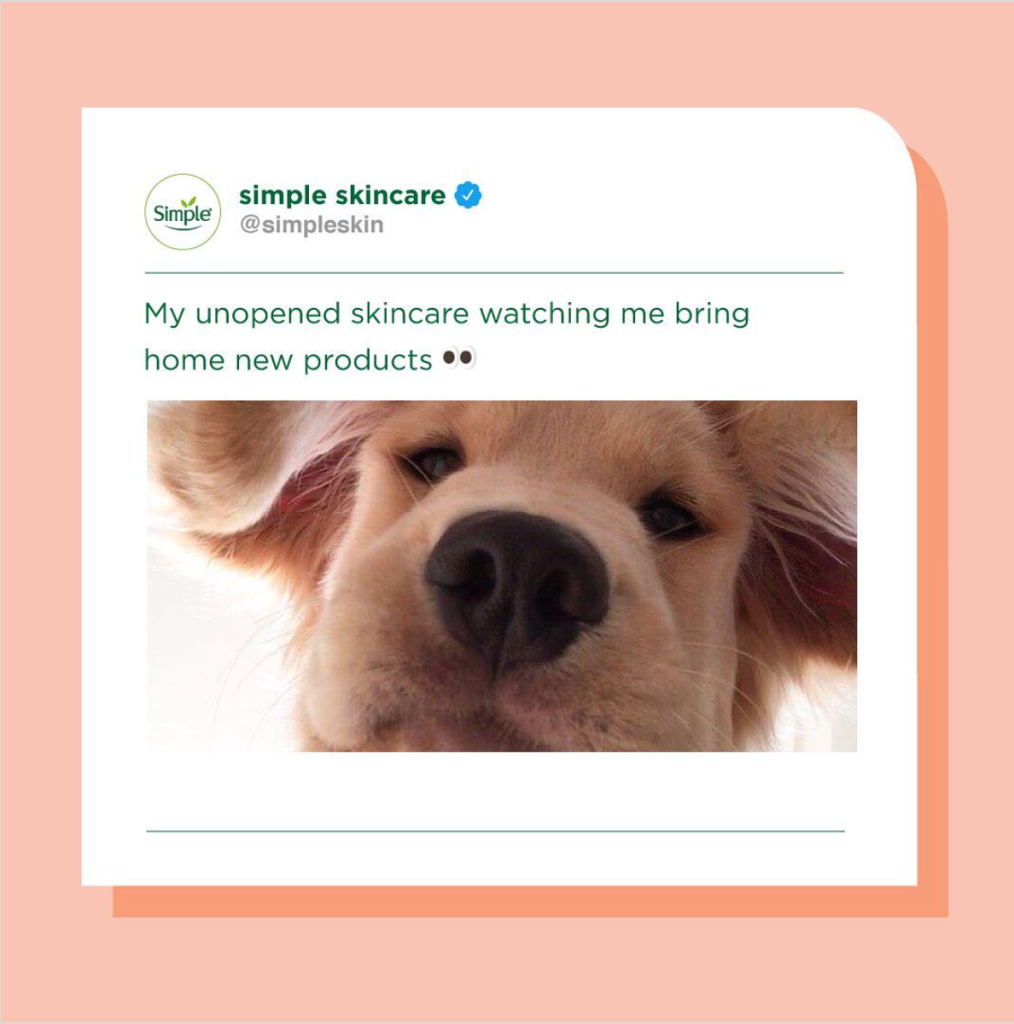 9. Starbucks
Starbucks tried to use the "Me, also me" trend, and they managed to get some remarkable impressions on both Instagram and Twitter.
10. KFC
KFC is known for its funny approach on online platforms. Users love most of their memes, which is why they continue to share them on Facebook, Instagram, and Twitter.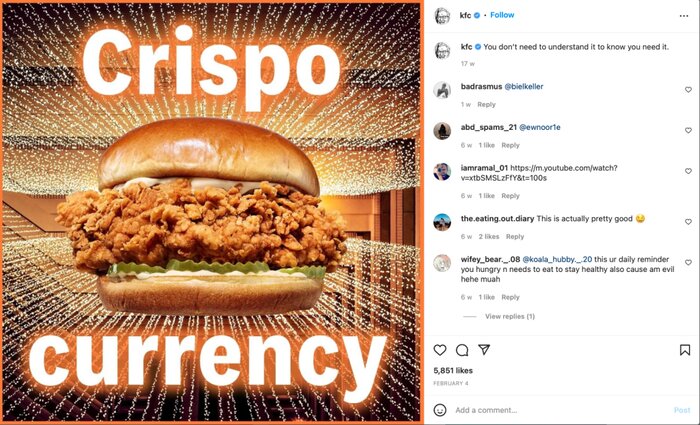 In conclusion
Memes have a broad spectrum yet represent specific concepts. They "spread like a virus", evolving and changing as they go.
For marketers, meme marketing comes as an out-of-the-box solution to communicate to a brand's audience. As for the every-day-user, meme marketing may look like a brand's attempt to look more friendly and drop some of the stiffness.
Whichever the perspective, it's a powerful tactic that can generate results but can also hurt a brand when the marketer doesn't double-check his ideas. And that is exactly why meme marketing cannot be considered a magic approach to guaranteed success.