What Is Marketing Automation? The Next Gen Tech of Improved Results
The advertising industry has evolved in a way few marketers were expecting. The processes from some years ago look entirely different from those we work with today.
At first, many of us moved from offline marketing to digital advertising; then, we exchanged OOH for DOOH. Nowadays, 56% of a brand's marketing budget goes to digital advertising. And it is no wonder why, as digital advertising comes with remarkable advantages, it has proved to be more cost-effective and requires fewer human resources.     
However, is there anything more? Well, the answer is pretty straightforward: of course, there is. Once a brand moves its promoting activity into the online space, it can benefit from one of the most useful processes: marketing automation.
Thus, what is marketing automation, how can it help advertisers, and what are some of the best practices and platforms to use?
What Is Marketing Automation?
Marketing automation implies using specialized software to complete various marketing tasks automatically. Usually, the actions that can be automated are rather monotonous, and completing them through marketing automation tools can help you focus on other tasks you have to work on.
However, marketing automation can help with much more than that. For example, after building an advanced strategy, marketing automation software can closely follow that, run ads, deliver detailed insights about various campaigns, and even build a complex customer journey.
Marketing automation may be one of the most developed marketing topics, and it can significantly contribute to processes such as digital advertising, SEO optimization, social media posting, email marketing, and many more.
The concept can be used on various social media, SMS, and email channels. Besides being extremely time-effective, it can help marketers develop personalized experiences for their customers, thus coming with great benefits for a brand's overall success. After all, we all know that marketing personalization can bring more customers by your side and keep them closer than you think.
What Is a Marketing Automation Platform?
Marketing automation platforms consist of software developed to automatically operate specific marketing tasks that would normally be completed manually.
Moreover, one of the most interesting facts about marketing automation tools is that they can complete the tasks you require based on a strategy you have previously built.
For instance, if you offer a remarketing strategy, the marketing automation platform will follow the exact steps you asked for, and your remarketing ads will look as you pictured and target the audience you defined.
Thus, users who interact with ad A will be delivered ad B or C, depending on their previous actions. And all this is conducted by the marketing automation platform.   
Usually, actions such as sending messages or emails would be completed by marketers. However, when using a marketing automation tool, you can automate such processes to focus on other tasks that are more creative and cannot be successfully completed by the software.
What Does Marketing Automation Mean for the Customer Journey?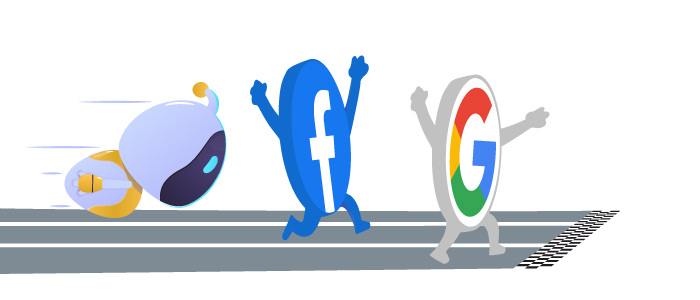 Indeed, marketing automation can help marketers by completing some tasks, such as social media posts or email marketing. Nevertheless, this process comes with many other benefits, and one of the most important is that it can highly contribute to getting users through the sales funnel quicker and more efficiently.
Marketing automation platforms can engage potential customers on various channels. Furthermore, they can do so regardless of the sales funnel phase a user is in at a specific moment. While focusing on maintaining relevancy, marketing automation tools can be used to send emails, deliver digital ads, send messages, recommend suitable products for each user, and, most importantly, personalize the customer journey.
All these processes can highly contribute to a consumer's decision to buy your products, and such tasks can easily be completed through a marketing automation platform and with an advanced marketing strategy.
What Are the Advantages of Marketing Automation?
Automating some of your marketing processes does come with great benefits. Besides saving time, you can also discover new things and dive deeper into your research.
In-Depth Customer Understanding
Marketing automation software can store and deliver comprehensive information about your customers' behavior; you can use it afterward to understand better the users you need to address.
Once you gather more data about those who may be interested in buying your products, you can add this to your marketing strategy and start using marketing personalization. This way, you will be able to improve the user experience significantly.
As we mentioned before, marketing automation tools can help you with personalization. And how they do it will go further than mentioning customers' names at the beginning of the email.
Deploys Complex Strategies with Little Manual Work
One of the most straightforward and helpful benefits of marketing automation is that using it will reduce the manual work a marketing team must conduct. Also, marketing automation platforms offer well-developed features that make marketers rely on them, as they can do the work based on a strategy previously built by the marketing team.
Marketing automation software can contribute to deploying complex strategies, as such platforms can perform a wide range of tasks and provide many valuable insights based on the materials they have previously delivered to consumers.
Allows for complex 360 strategies
A great way of acquiring new customers and keeping those who have already converted, 360 marketing strategies ensure that users have a positive experience with a specific brand, regardless of the device they use, the channels they usually check, and their behavior.
Marketing automation software does help streamline the entire process of building a 360 strategy, as it can work on multiple channels, such as delivering social media posts, running ads, sending messages and emails, and many more.
Saves Time
Besides being an extremely helpful tool that can complete repetitive tasks, marketing automation software can help marketers save time while conducting their strategy. This may be one of the most remarkable benefits of marketing automation, as this can lead to building more complex marketing strategies and acquiring new customers more quickly. 
What Are the Disadvantages of Marketing Automation?
While marketing automation comes with great benefits, it is important to note that there are some downsides to this process, too.
Can Be Very Expensive 
Automating various marketing processes is a time saver and helps marketers focus on more demanding tasks. However, such software can be quite expensive, and not all companies can afford to use marketing automation.
Ranging from the number of contacts to the number of users and, of course, the subscription plan, the costs add up so fast that they can easily drive up the price by over $10,000 a year. And depending on how ample an organization's marketing activity is, the marketing automation tool gets closer to $100,000.
But of course, if taken seriously, the tool may not only cover its value but also bring in considerable profit.
Will Require an Almost Mathematical Approach
While considering the significant benefits of marketing automation, marketers should also consider that automating marketing processes requires a more mathematical approach and meticulous planning.
Besides involving a lot of creativity and innovation, marketing is indeed about numbers. However, when automating specific marketing processes, brands must find the most practical ways to use such software to their advantage.
So, making full use of reports and ensuring no mistakes are left behind is a must.
It May Overcommunicate
Marketing automation is a remarkable and innovative idea. Nevertheless, communicating with customers through marketing automation software or a chatbot cannot always be the same as users talking with a company's sales or customer service team.
As the automated tool looks for triggers, there is a possibility that customers will receive too many messages and will feel quite overwhelmed by how marketing automation platforms act in this situation.
It May Depersonalize Your Brand   
Adding a marketing automation platform to your strategy may depersonalize your brand, affecting your relationship with the customers.
For instance, if you decide to set up a chatbot on your website, some users may get stuck with it and not reach the answer they are looking for. This can affect the user experience, which may lead to decreased sales.    
It Does Not Improve the Processes. It Just Executes Strategies
If you have some issues spread in your marketing strategy, a marketing automation tool will not detect and resolve them. Marketing automation software can only execute what you plan.
Thus, if some points can reduce the efficiency of a marketing strategy, keep in mind that delivering that strategy to a marketing automation tool will lead to increased inefficiency, which can affect your business' success and revenue.
Marketing Automation Best Practices
While considering the advantages and downsides of marketing automation software, you can also look at some of the best practices that may improve your experience and results.
Define the Right Audience
Even though automating marketing processes will give you useful insights about those users most likely to become your customers, defining your audience from the beginning is essential. After receiving audience data from the marketing automation platform, you can add it to your already-built strategy to make a strategy that will quickly drive users through the sales funnel.
Defining one or more buyer personas will help you deliver content to those most likely to be interested in your products. This way, you will make the best out of your advertising budget.
Understand Your Customers
After defining the audience, you may want to learn more about your customers and their journey on your platform. This will help you learn more about the improvements you can make so that it will be even easier for potential customers to complete a purchase. As we mentioned, marketing automation platforms can help you with that, as they allow you to better understand your consumers' behavior.
Thus, find out what customers like about your platform and brand and where they think of exiting your website. Basically, you want to focus on whether your customers and potential customers face any challenges when interacting with your brand.
Automate Internal Processes
Besides automating tasks such as emails or messages, you can also use marketing automation for internal processes. For instance, when working on the newsletter list, you can use a marketing automation platform to remove the email addresses that have not been active for some time. This can happen regularly and will help you improve your email marketing strategy.  
Track Your Results
Just as with any other marketing process, you should track the results you get from marketing automation platforms. This way, you will be able to find the things that require some improvements, and you will increase your brand's success.
Top 5 Best Marketing Automation Platforms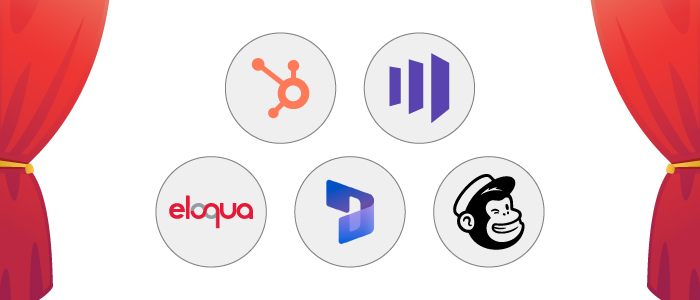 HubSpot
HubSpot may be one of the most popular marketing automation platforms worldwide. Basically, this platform is handy because it's got lots of useful tools to help businesses with their marketing. But, instead of going really deep into perfecting just a few features, it offers many different ones.
HubSpot is suitable for businesses that are looking for an "all-in-one" tool and has a price that starts from $792/month. However, its basic features are not enough even for a small digital business.
Marketo
Unlike HubSpot, Marketo, an Adobe company, focused on delivering a marketing automation solution that goes deeper into this topic. The platform provides multiple tools to help marketers manage their email campaigns while also helping sales teams improve their activity. Marketo has a remarkably user-friendly interface, and the pricing starts at $1,195/month.   
Eloqua
Eloqua may be the most suitable for brands that are looking for close guidance and a lot of tools for marketing automation. The platform has focused on helping its customers learn more about marketing automation and has developed features that work best for all types of businesses.
Furthermore, Eloqua suits brands that use CRM (Customer Relationship Management) in their marketing strategies. The subscription for Eloqua starts at $2,000/month.
Microsoft Dynamics 365
Launched in 2018 by Microsoft, Dynamics 365 Marketing works with Dynamics 365 CRM and has multiple features, such as multi-channel campaigns, event management, lead tracking, nurturing, and scoring.
Dynamics 365 Marketing allows marketers to develop customized interactive workflows that can easily adapt to the customer journey and behavior and offer users a personalized experience.
One of the platform's main advantages is that it can integrate with many other tools, including those powered by Microsoft, such as Office 365 or Microsoft Teams. The prices for Microsoft Dynamics 365 Marketing vary between $750 and $1,500, and the platform offers additional packs.
Mailchimp
Mailchimp is one of the most popular email marketing and automation platforms, currently working with over 12 million customers. Founded in 2001, the company was later acquired by Intuit, and it is constantly developing new ways of improving email marketing and making the most out of automating this process.
Mailchimp has focused on customization; it is mainly used by small businesses and has a free entry-level subscription.
Final Thoughts
Marketing automation is an excellent opportunity for marketers, as it helps them save time and focus on other tasks that require their close attention. Furthermore, automating marketing processes can offer you some great insights regarding your audience and the journey it has on your website.
Besides being a time saver, marketing automation has some remarkable advantages, including that it allows marketers to build 360 marketing strategies and can help with in-depth customer understanding. However, it is important to note that automating marketing processes can also have some downsides, such as its price or the fact that it can depersonalize the brand.
Some of the best practices to follow while using marketing automation include defining the audience carefully, understanding the customer journey, and tracking the results. If you are looking for effective marketing automation tools, consider using HubSpot, Mailchimp, Eloqua, Microsoft Dynamics 365, or Marketo.