What is Remarketing and How Does it Work?
Marketing makes consumers choose a specific brand detrimental to another, based on an advanced strategy that is targeting them. And even though acquiring a customer one time may bring a profit for the moment, a brand cannot constantly look for new clients only.
Furthermore, even bringing new clients is quite hard, too. According to Mailchimp, around 97% of the users who visit your website for the first time don't convert. On top of that, once they leave, they never return. And unless you can bring them back, that's a hefty chunk of your marketing efforts thrown out the window.
In this article we will talk about how to make users convert and stay close to your brand through designing a complex, yet totally effective remarketing strategy. Stay close and let's turn those potential customers into genuine advocates of your brand.
What is remarketing?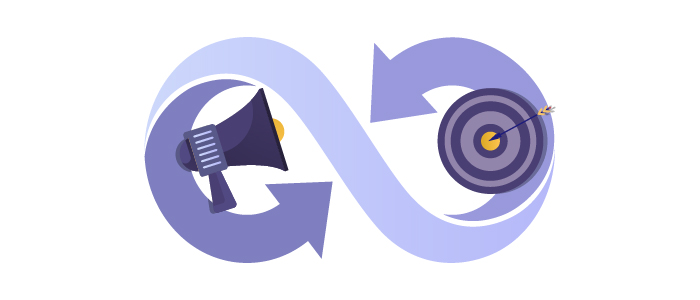 Fundamentally, remarketing is a marketing strategy; it implies targeting users who have either heard of your brand before or interacted with it. However, regardless of the users you want to acquire, remarketing helps businesses get in touch with potential customers who have shown interest in the brand and its products/services.
Benefits of remarketing
Remarketing brings to the table a lot of tangible benefits, and it is no wonder why 70% of marketers use it for their businesses, this only being for brand awareness.
It is ideal for warm and hot customer acquisition – you can target users who have previously completed a relevant action on your website. They can then be included in a newsletter list or be shown ads especially designed for the particular sales funnel step they are currently in;
It is suitable for any industry – despite being especially recommended to e-commerce businesses, remarketing can be used by any business. Just as it can return customers to online shops, it can encourage prospects to become leads for service-based businesses. The secret is to shape the strategy for a brand's needs;
It is quite affordable – running a remarketing campaign requires a smaller investment than others. For example, a search ad on Google has an average CPC between 1$–2$, while a remarketing one can turn the CPC as low as 0.66$. Thus, it is an excellent way of increasing your ROI (Return on Investment).
How does it work?
Building an online remarketing campaign isn't rocket science. However, there are a couple of key pieces you will need, such as a remarketing tag or a list.
Remarketing tags and lists
A remarking tag is a code snippet that adds your website visitors to various data segments, based on how they interact with your website. You can then deliver relevant and contextual ads to that visitor, guiding him through the sales funnel.
Remarketing through lists can be an excellent option for those aiming to keep their potential customers close. Considering that a particular user is already part of a list, receiving custom content will help them get through the sales funnel quicker.
Furthermore, Google Analytics made remarketing lists even easier to manage with RLSA (Remarketing Lists for Search Ads). This tool lets you define some criteria in order to add customers to a specific remarketing list without adding any other JavaScript or snippets. This way, each user will be delivered personalized ads, based on their website activity, registered directly by Google Analytics.
Retargeting vs Remarketing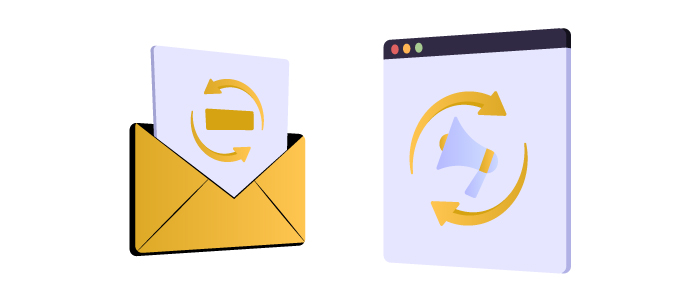 Although often used interchangeably, "Remarketing" and "Retargeting" are not exactly synonyms. In fact, retargeting is part of the remarketing strategy. The confusion was made mainly by Google, back in 2010, when they launched their Retargeting Services and promoted them as a remarketing tool.
What is retargeting?
Retargeting is a method to deliver ads to users who have completed a relevant action regarding your brand's online activity, such as interacting with your website, an ad, a Social Media post, or others. Through Retargeting, you can re-engage with people who have shown interest in your brand and your products/services.
Retargeting's and Remarketing's definitions may sound the same. However, the main difference between the two concepts is that Retargeting refers to online activities, while Remarketing can also be done through physical channels.
Basically, retargeting can be a synonym for digital remarketing. Moreover, Remarketing acts like an "umbrella" for more terms, including Retargeting. Thus, there is no "winner" in the retargeting vs. remarketing battle; they both are doing amazing things for your campaign.
How to build a remarketing strategy?
When building your remarketing strategy, there are some specific questions you have to ask yourself: who has to see your ad? Where will users see it? What will they see? Are the results adequate?
To answer all these questions, let's take them step by step.
Set your campaign's goals
It's important to know where you aim; thus, setting some realistic goals for your ad is the perfect way to start your remarketing strategy.
Depending on the type of business you are running, the goals can be different. For example, if you own an e-commerce site, you might want more sales as soon as possible.
On the other hand, if you provide services that require an extended sales cycle, such as professional consulting in a specific field, you might enjoy more people leaving their e-mail addresses on your site in the first place.
That way, you can start as many customer journeys as possible and help them through the whole process of purchasing your services.
Choose the channels you will usee
Each business has a buyer persona, and thanks to that, they know what type of people they have to acquire through ads. A customer persona also helps when deciding what channels to use for your ad.
You can advertise through search engines, such as Google Ads and Microsoft Advertising, or social media platforms, like Facebook or Twitter. And there is also another crucial part of a remarketing strategy: email remarketing.
Advertising through social media gives you more interaction because people can also leave a like, comment, or even share your post while also being redirected to your website. Through social media, you will gain new customers through both the remarketing tag installed on your website and the users interacting with your ad on the platforms where it is running.
Moreso, for example, Facebook allows you to upload contact lists and retarget those people or use the pixel in order to acquire users from your website.
When you create a campaign on the search engines, your ad can be visible on every partner website of that specific search engine. Thus, there is a high possibility that you get greater visibility by using Google Ads rather than Facebook. However, keep in mind that even Facebook has some partner websites, and they can deliver some banners to you through the articles you see on the platform.
But let's think about it another way: why not use both?
You can make the best of both worlds by using social media and search engines simultaneously. There cannot be anything but benefits when being noticeable in more places. When people see your brand on various platforms multiple times, they are even more triggered and tend to make a purchase even quicker.
Although a lot of advertisers decide to use both platforms for their remarketing ads, some of them see a greater opportunity in using only one. It depends on the strategy, the brand's field, and the "trump cards" one is keeping.
Furthermore, never forget about email remarketing. It is a great way to reach users who have not completed a purchase just yet. You can send them recommendations, kind reminders about the full shopping cart they have left on your website, or even updates about the products they have previously purchased. Always remind them you are aware of their needs.
Moreover, you can automate your email marketing and send some personalized emails, based on a user's activity on your website. For example, a user who have just visited some pages and spent a relevant amount of time on the website will receive a specific email.
On the other hand, someone who has added some items to their shopping cart will be sent a different email, with other approach and CTA.
Work on the audience
Once you know where to aim and what online platforms to use for your remarketing campaign, it's time to define the audience. There are several ways of segmenting your audience based on some specific characteristics.
If you own an eCommerce business, make sure you target people based on their location. For example, if your online shop delivers in the United States only, what's the point of targeting people from Europe? Not only will it be a waste of money, but it will also lead to a decrease in user sentiment, as people will be disappointed with you not being able to deliver their orders.
It is essential that you set the age and gender right. Increasing sales is all about delivering relevant content to the right people, so be careful you engage users who find your product suitable for them and their needs.
The most important thing is that your audience has to be designed especially for the campaign's goal. For example, if you want to significantly raise your number of orders on some of the basic products, you can target people with various monthly earnings.
On the other hand, if your goal is to sell luxurious items or services, try to deliver your ad to people with medium to high earnings. This way, you will interact with the ones whom you know can afford to buy those products.
Decide on the visuals
Your brand's marketing strategy has to be like a puzzle. Each piece should work with the other to get the best from it in the end. Thus, your message should work with the CTA and the visuals.
Each platform allows some specific ad formats, so try to design your visuals to comply with the requirements. Moreso, keep the design simple for the information to be readable and intriguing.
White space is important, too. The key is to drive the user directly to the main idea you want to deliver.
Track your results
It is essential to see the outcome of your ads; thus, try to track its results.
Each platform provides detailed insights to improve your campaigns. For instance, you should be careful when it comes to the CTR (Click–through–Rate). The CTR shows you how many times people clicked your ad versus how many times it was shown.
Surprisingly, the average CTR for remarketing ads stands around 0.7%. Indeed, this is a really good number, regarding the fact that the average CTR for display ads is 0.07%, according to an infographic posted on Whispond.
Moreover, the results should be noticed in your sales, particularly when running a remarketing ad.
How to use behavioral retargeting?
Behavioral retargeting is all about re-engaging with users based on their past online activity, and making it a part of your remarketing strategy will help you rank higher among your competitors.
How does it work?
Behavioral retargeting is using pieces of data called "cookies". Basically, when a user enters a website and accepts cookies, they are going to leave a small "crumble" anywhere they navigate through the website, be it the "About" page, product pages, etc. The crumbles are the data that will later provide the website owner with information about the user's online journey and how to engage them.
Behavioral retargeting practices
When retargeting people based on their website activity, it is easier to detect those more likely to convert.
A user who spent just a second on your homepage and bounced is clearly not interested. However, somebody who looked for certain products, navigated through some of your pages, and even added an item to the cart is an easier target.
Moreover, you can send them emails based on their interests and balance them with the ads. Combining the two is highly recommended, but only if they are related to each other. They should tell a story to convince users that it is impossible not to purchase something.
Also, discover the benefits of dynamic ads. Once an online user clicks on product pages, there will be no surprise if they see those items in an ad sometime later. Furthermore, they will be driven by the urge of buying even more.
Other types of remarketing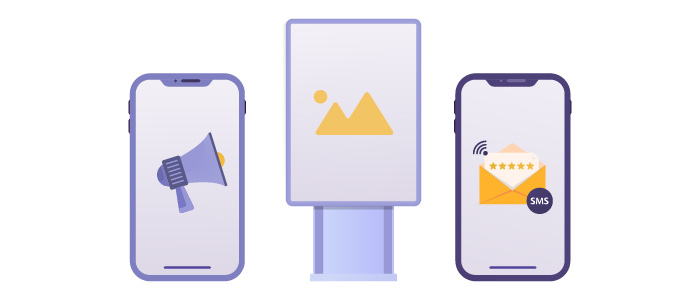 Even though remarketing has gained a lot of fame in recent years, this marketing strategy didn't come along with the online era. It had been here long before that.
Offline remarketing
Offline remarketing has been here for a long time, and it doesn't plan to be leaving just yet. And why would someone give it up if it is working?
You can see it all over the place: on billboards, next to some stores, a little further from the store, and then a little further.
Imagine you are on your way to the seaside, and when you have 150km left, you first see a billboard about a private beach quite close to your hotel. Half an hour later, you notice another billboard about the same beach, stating that it is the cleanest. Fifteen minutes later, another one is displaying some cocktails and a chaise lounge, bathing in the sun. For sure, this place will be the first one to visit after your check–in.
Also, besides billboards, you can use offline remarketing tactics to drive more sales through direct mail.
The approach is quite simple yet effective. Once you notice a user taking a particular interest in a product or a category of products, you can simply go forward and send them a catalog through mail. Of course, this strategy works best for businesses where users give their home addresses consensually.
Phone remarketing
Phone remarketing has been the star all through the 90s, and it's no wonder why things were like that: the results were quite promising.
Once you have your clients' contacts, why not call them to see what you can do to increase their comfort? Moreso, when talking with a user through a phone call, it is easier to get their feedback right away.
However, it can be intimidating for someone to be assaulted with many calls from a brand. Thus, try to keep your calls short and don't stress the customers out, as there is a high possibility that they will lose their interest.
SMS remarketing
Remarketing through SMSs might be one of the most effective ways of reaching your potential customers. According to SlickText, the SMS open rate can go as high as 98%. Thus, people will see your SMS, most probably. Moreover, they will see it soon after receiving it, as we all keep our mobile phones so close to us that any notification can be read in no time.
You can use an SMS marketing platform that allows you to automate the process. This way, you can send both bulk and personalized messages, based on some specific events. For example, you can let them all know about an upcoming offer, or you can send a personalized message about an item left in someone's shopping cart.
Tips for success in remarketing and retargeting
A remarketing strategy may work out as you were hoping, but there will always be room for improvements. So here are some tips that might help you.
Always update your audience
Try to keep your audience as up-to-date as possible. Updating your audience will allow you to interact with more potential clients, as there are always new users who complete actions on your website. Reach people quickly, right after they visit your website. This way, they won't have the time to lose their interest.
Use intriguing messages
Always come up with something new. The key is to keep potential customers interested in your brand and your products/services, which won't happen if they repeatedly see the same message.
It may seem hard, but it is precisely your customers who tell you what they want; you just have to listen. Study their online activity in order to recommend relevant products.
Don't forget about the old customers
Many business owners concentrate on new clients, while those who have been loyal to the brand for some time might be even 3x times cheaper to convert. They may be closer to the brand, but not keeping it this way will only make them look for other options.
Send them a "Hey, remember me?" message from time to time. It is essential to be close to all of your customers, be they loyal or new. They all have to get the same treatment.
Moreover, it is easier to target people you already know more about.
For example, send them recommendations based on their past orders. Also, you can recommend the products they have previously purchased. There is a high possibility that they will need them again.
Always test your strategy
One of remarketing's benefits is that it allows you to test more strategies to get the best out of your campaign. Thus, you should A/B test your ads.
Try to find out which message is working the best for a specific audience and then stick to that main idea, but don't forget to stay updated and to come up with slight changes.
Moreover, A/B testing allows you to study your audience's behavior and then create campaigns and messages that will engage with the users even more than before. Use testing wisely and let it help you create a remarketing strategy like no other.
Final thoughts
Remarketing is helping businesses acquire customers who have previously interacted with your brand.
It is essential to know the difference between remarketing and retargeting and use them to your brand's advantage.
Always put your audience first and try to comply with users' needs to get more sales. You can also use behavioral retargeting to increase the user sentiment even more.
Track your results as often as possible and try to test your campaigns. This way, you will always know your strategy is constantly improving.