Definitive Guide: Unleash the Full Potential of Digital Marketing Analytics! 
Shaping advanced marketing strategies can push you up in the charts, regardless of your industry. And while including various channels in your marketing activities is beneficial, how do you know if your actions have a positive outcome? Furthermore, how do you ensure that your investments do not go to waste but bring new and incentivized customers?
Usually, marketers' job does not end when they publish a post, an article, or an ad. From that point, they have to track their results and improve their strategies to use the marketing budget most effectively. And to do that, they use digital marketing analytics.
Thus, what is digital marketing analytics, what metrics can you track for each part of your marketing strategy, and what are some of the most valuable tools you can use?
What Is Digital Marketing Analytics?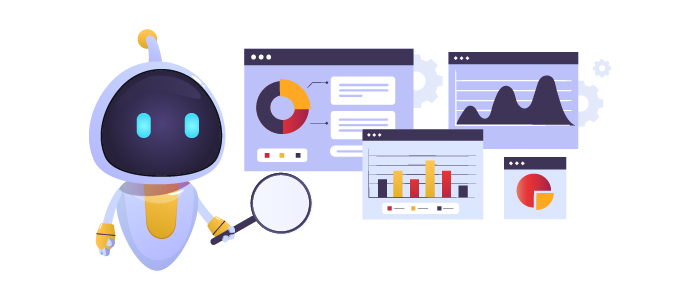 Digital marketing analytics is a sum of processes and technologies that help a marketing team measure and evaluate the outcomes of their digital marketing activities using marketing data. For instance, if you work for an e-commerce company and manage its website, you would like to know how the website is performing.
This usually happens for every digital marketing subfield you may tackle. Every digital marketer wants to know if their strategy is working well. And if not, they want to improve it by relying on digital marketing data analytics.
Benefits of Digital Marketing Analytics
Unlike some would expect, digital marketing analytics not only shows you how your ads work. Instead, it comes with many great benefits for multiple stages of a marketing strategy.
Take shaping an audience, for example. Where do you turn for customer data to build an audience that will convert, if not on Google Analytics or Facebook Audience Insights? There, you will study various digital marketing analytics to gain information regarding those who are buying from you.
And after you build a suitable buyer persona, it will be time to shape a personalized user experience that will help users convert as fast as possible. Digital marketing analytics can also help you in this matter.
Afterward, when you base your strategy on marketing personalization and build your first campaigns, you may want to know if they are working. To do that, you can rely on digital marketing analytics. Such data will tell you how your ads perform and what you should optimize for better results.
Key Digital Marketing Metrics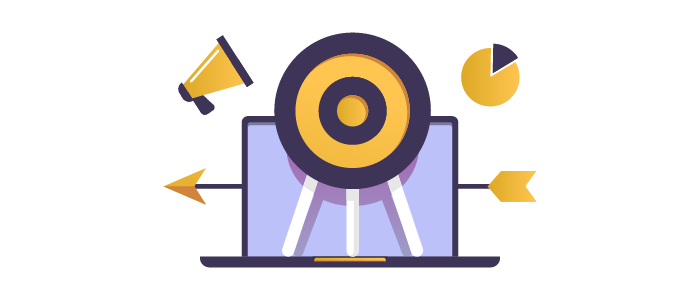 Depending on the channels you are using in your marketing strategy, you should usually focus on some specific digital analytics metrics. Thus, we will discuss some key digital marketing metrics that may help you.
Remember that, regardless of the channels we are talking about, the digital marketing metrics you track strongly depend on your goal. This means that while you can focus on the key digital marketing metrics we will discuss below, you may want to track others, too.
Digital Analytics Metrics for Websites
Website analytics can tell you pretty much about your customers and what they expect to find on certain pages. For instance, if you have an e-commerce website selling computer hardware, specific metrics might suggest adding descriptions for your products so that users can learn more about a product's main features and decide if that is right for their needs.
Unique Visitors
The number of unique visitors indicates how many individuals have visited your website during a set period. Usually, if the number of unique visitors is increasing, the overall website and ads performance might be going in a positive direction.
Page Speed
When it comes to page speed, everyone wants it to be as high as possible. Usually, users prefer a website with high page speed instead of one loading slower, even though the former may offer more valuable content. And this is why everybody focuses on page speed as much as possible. To measure page speed, you can use Google Page Speed Insights.
Bounce Rate
The bounce rate indicates the percentage of users who accessed your website but left the page quickly without accessing other pages. Usually, when you notice a high bounce rate, you may want to analyze your overall website performance and find new ways of improving it.
Some reasons for high bounce rates may include the low quality of the page or the fact that your page content does not match your audience's interests. Best case scenario, when leaving a page after a short time, the visitor has quickly found what they were looking for.
Conversion Rate
On a website, the conversion rate tells you more about the percentage of users who accessed your website that performed a desired action. The action you aim to make users complete can be anything from subscribing to a newsletter list or downloading an e-book to purchasing a product.
While you want the bounce rate low, every marketer desires to work with high conversion rates. If you deal with a low CR, you may want to check what stops users from converting. For instance, you can use heatmaps to learn more about what users are trying to reach or find.
Digital Analytics Metrics for Content Writing
As easy as content writing may seem, it usually requires considering several factors when writing a particular article. How are you going to reach your audience through this post? How should you build your text to deliver the information quickly but use the basic content writing principles? How should you shape an email for users to access your website and make a purchase directly?
Traffic
Traffic may be one of the most critical digital analytics metrics you can track. The traffic metric indicates the total number of users that visit your website. Traffic is usually measured in visits (also called "sessions").
While some consider traffic the most important metric, it depends on your goal. For instance, some may deliver specific types of content to increase their web traffic, while others may focus on reaching a niche audience. It all comes down to quantity vs. quality.
Average Time on Page
The average time on page talks about how much time visitors spend on a specific page of a website on average. Depending on the type of content you deliver on that page, you may usually want this metric to be pretty high. For instance, if you have a blog, a high average time on page may show you that your content is valuable to your users.
Pages per Session
Is it just your latest article that drives users to your website, or are there others that deliver valuable information for them? The pages per session metric is calculated by dividing the total page views by the total number of sessions, and it may help you in this matter.
Digital Analytics Metrics for Social Media
Social media may be one of the most trackable channels at the moment. And besides constantly checking how many likes and new followers you get, there are more valuable metrics that you can track.
Reach
The reach of a post refers to the total number of users who have seen a specific post since it was published. It is an extremely valuable metric that can tell you even more than that. For instance, through reach, you can learn when your audience is more active on a specific channel, thus managing to schedule the post so that it is seen and considered by most users.
Engagement Rate
The engagement rate indicates the total number of interactions, comments, and shares for a post, during a set period. It is usually calculated as total engagement divided by the number of followers multiplied by 100. Remember that each platform has slightly different formulas for the engagement rate, as the actions on those platforms can also vary.
Digital Analytics Metrics for Email Marketing
Email marketing remains one of the most effective ways of engaging with your users. And while shaping compelling copy for your emails is a significant part of the whole strategy, you also have to learn if your emails end up in users' inboxes and if they open them, read them, and take action.
Open Rate
The open rate refers to the percentage of email recipients who opened an email. This metric tells you more about how many users from your email marketing list are more likely to convert. However, as email marketing platforms look at the open rate differently, marketers are usually advised to check the CTR and open rate simultaneously.
Bounce Rate
The bounce rate can be due to either soft or hard bounces, and it talks about how many emails were returned to you due to various issues. While soft bounces may be resolved quickly, it is highly recommended that you eliminate hard bounces from your email marketing list.
Unsubscribe Rate
The unsubscribe rate indicates the percentage of recipients who unsubscribe after receiving an email. Usually, it is recommended to track the unsubscribe rate along with the CR (Conversion Rate) and CTR (Click-through Rate) to have a better view of your email marketing campaign's success.
Top 5 Digital Marketing Analytics Tools to use in 2023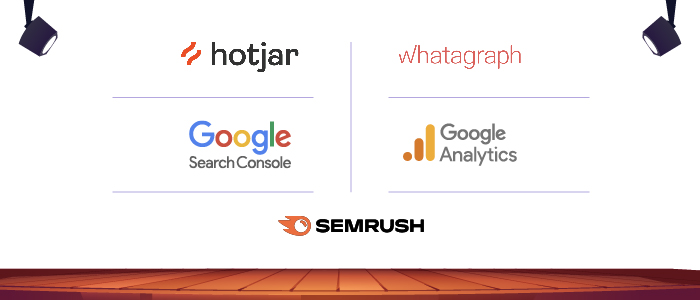 Google Analytics
Google Analytics is one of the most popular digital marketing analytics tools. It is widely used by marketers worldwide and provides highly detailed and valuable insights about a website's performance. Currently called Google Universal Analytics, the platform is transitioning to GA4 (Google Analytics 4).
GA4 is the latest version of Google Analytics, and while UA (Universal Analytics) only focuses on web analytics, GA4 will also enable app analytics. Furthermore, GA4 will bring new valuable features to the table.
Google Search Console
Even though it may not be as popular as Google Analytics, Google Search Console is a comprehensive SEO tool for website owners.
GSC allows webmasters to check indexing status, search queries, crawling errors and optimize visibility of their websites. Basically, Google Search Console helps website owners maintain and improve their presence in the SERP (Search Engine Results Page).
Semrush
Semrush is a digital marketing tool that mainly focuses on SEO (Search Engine Optimization), PPC (Pay-per-Click), SMM (Social Media Marketing), and content marketing. Besides, Semrush users can use the platform for processes such as competitive and keyword research, marketing insights, or campaign management.
Semrush offers two plans called Pro and Guru. The plans differ in price ($119.95 vs. $229.95 monthly) and the tools offered. For instance, while Pro allows users to use Semrush for 5 projects, Guru allows users to include 15 projects in their plan.
Whatagraph
Whatagraph is a reporting tool that helps businesses track and analyze the overall performance of various marketing actions. Whatagraph allows users to build reports using analytics from several sources and create workflows for collecting data from multiple marketing channels. The reports can be customized to match a company's needs.
The Whatagraph pricing plan starts from $199/month, and goes up to $299/month for the premium plan. The subscriptions are billed annually.
Hotjar
Hotjar is a marketing tool that offers detailed analytics regarding web performance and user behavior. With Hotjar, users can track insights such as behavioral analytics, conversions, customer activity, or demographic data.
With a user-friendly interface, Hotjar can be used for free, but users can opt for a paid subscription starting from $39/month.
In Conclusion
Digital marketing and analytics are a vital combination for measuring the overall performance of your marketing actions. Consisting of processes that help marketers measure the success of their digital marketing efforts, digital marketing analytics highly contributes to every step of an advanced marketing strategy.
Digital marketing analytics can be divided into 4 key digital marketing metrics groups. Thus, marketers should focus on digital marketing metrics for websites, content writing, social media, and email marketing. However, depending on the company and its goal, each marketer usually tracks some key metrics that help them improve their campaigns.
Some popular and useful digital marketing analytics tools include Google Analytics, Google Search Console, Semrush, Hotjar, and Whatagraph.