How to Create a Successful Mobile Marketing Strategy in 5 Easy Steps 
For everyone worldwide, smartphones have become a significant part of their lives. And as technology has spread wider and quicker, many companies have seen big opportunities ahead with everything that comes with mobile marketing.
Today, out of 5.8 billion internet users, almost 85.7% are mobile users, meaning 4.97 billion. These days, over half (58.5%) of the global online traffic comes from mobile devices. So, if you haven't got a mobile marketing strategy by now, use our framework to make one.
But before going any further, you should first have a better understanding of how mobile marketing works and some important notions regarding this topic.
What is mobile marketing?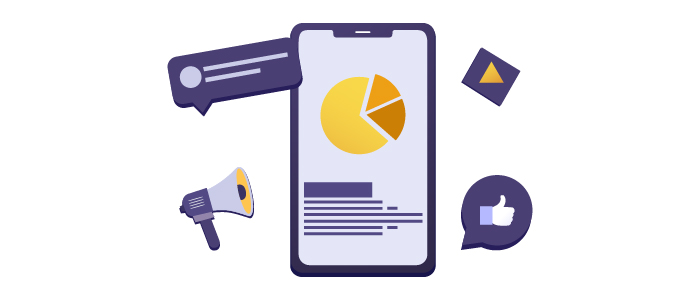 Mobile marketing refers to a marketing approach focusing primarily on drawing sales from mobile device users. It can also be viewed as a way in which the technology concentrates the personalized promotion of goods and services to users who are constantly connected to the internet.
Mobile marketing took a turn in 2007 when Apple launched the iPhone in the US and UK. Since then, smartphone technologies have developed even further, and a wide range of mobile apps have emerged.
Since then, web developers have started to structure their designs by considering the most used screen sizes. And the paradigm changes also influenced how the new software interfaces were thought out.
Considering the mobile marketing focus points, it didn't become unusual for computer programs and cloud-based software to offer a lightweight mobile application that allows users to access the same functionality from the desktop interface directly on their mobile devices.
Also, in 2007 advertisers spent $61 million on mobile ads – 0.04% of the $148.99 billion global advertising spend. Now, in 2023, global mobile ad spend has been estimated at around $360.334 billion – 57.48% of the $626.86 billion global ad spend.
What does mobile advertising consist of?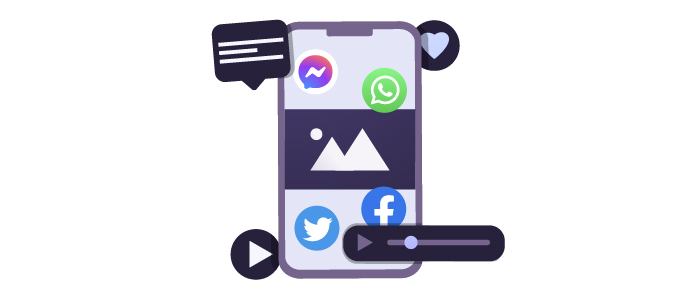 Even though internet ads were originally designed for desktops, the continuously growing internet usage through mobile devices forced the digital advertising industry to adapt.
Mobile advertising is one of the mobile marketing tools that refers to delivering ads to the audience that uses those products. In more detail, mobile advertising is a part of mobile marketing that implies the delivery of commercial messages directly to the target audience's phone in the form of text, image, or video through SMS/MMS, notifications, social media, search engines, or mobile apps.
Unlike years before, mobile marketing has moved more towards web and display mobile advertising. Reaching out to your target has never been easier; today, there are plenty of dedicated ad network services, tracking solutions, and formats to deliver your ad.
There are even ad network services that specifically target smartphones.
Now, mobile advertising is mainly based on several technologies and types of data, such as:
Cookies;
Keywords;
User profile;
Demographics;
Topics;
Interests.
Trends in 2023
Since GDPR became mandatory in the EU, the advertisers and the companies providing the advertising tools were continuously required to ensure more data privacy and protection. The ad tech companies have prepared for the data privacy and protection changes in contextual and anonymized data.
Facebook (now Meta) has also been working on this trend to find new ways to deliver highly relevant ads without using too much of users' personal data.
The focus in 2023 is on ad quality and creative control. Also, the mobile marketing trends will focus more on mobile streaming, giving more light to mobile e-commerce, video content, personalization of the ad messages, 5G mobile standards, and mobile games as the next social network.
5G wireless technology brings new capabilities and opens the road for new technologies. Aside from an even more potent mobile network, 5G is expected to be used to interconnect and control machines, objects, and devices. Rich media ads bring better results than static banners, and that's a given.
However, banner blindness is worsening yearly, and engaging with your audience with display ads is becoming harder.
Interactive ads are not a new thing, but it's a concept that continuously evolves and has been the 2023's top marketing trend. Polls, quizzes, and such will prove reliable, but mini-games shown in apps will do wonders in mobile advertising.
5 steps to creating a mobile marketing strategy in 2023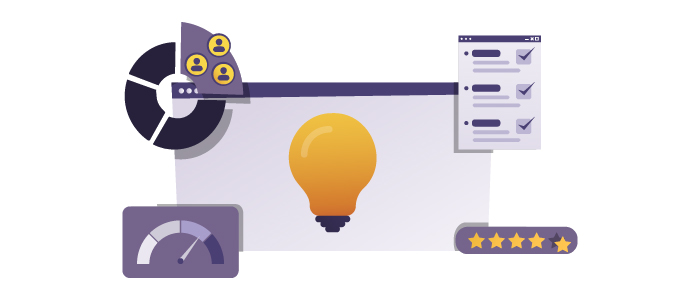 1. Understand your audience
In order to get the most out of your website on mobile, you first need to learn who your mobile audience is, as your mobile marketing strategy should be developed based on a buyer persona. The best way to do this is by checking your Google Analytics reports.
Check the devices
Since Google Analytics recently switched to GA4, the options and processes changed slightly. Thus, to find insights about users' devices, you will need to go to: Reports >> User >> Tech >> Tech Details. Then, you will be able to filter the report by using the "Device" category.
This report will help you understand how many of your users actually visit your site from mobile. Select the data from the beginning of the year up until now, and you may find out you get most of your users from mobile or, on the contrary, you get only a few mobile users.
Check Your Analytics Conversions
During UA (Universal Analytics) times, we used to use "Goals." Once GA4 stole the spotlight, Goals changed to "Conversions." Furthermore, the metrics changed, too. Thus, only the Destination and Event types of UA Goals can be tracked as Conversions in GA4.
If you were using UA Goals, you can migrate them to GA4 and continue to measure how your leads get in touch with you, how many of them sent you contact forms or called directly from the website, and how many customers reached the thank you page by using their phones.
You can migrate UA Goals by going to Admin>> Property >> Setup Assistant >> Set up conversions, then click on the Actions icon and on "Import from Universal Analytics."
Learn more details about your audience
After discovering how many mobile users your website gets, go deeper.
Go to Reports >> User Attributes and check the Demographics submenu to find out more info about the age, gender, location, language, and interests of your audience. Then, you can go to Tech >> Tech details to find out your audience's App version, Browser, Device category, Device model, Operating system, OS version, platform, or screen resolution.
2. Check your website's mobile performance
By now, you know who your audience is. The next step for efficient mobile marketing is to verify if your website is mobile-friendly.
Test your website responsiveness
The fastest way to test it is to access your website from your mobile phone and see if it shows as it should.
To be accurate, check if your website is mobile-friendly by testing it with Google's Mobile-Friendly Test.
Or you can go in-depth with a Lighthouse audit. You can run it through Chrome DevTools by accessing the Audits tab. The report offers a detailed audit of Performance, Accessibility, Best Practices, SEO, and Progressive Web Apps. Lighthouse also offers improvement suggestions on the issues it identifies.
Check the metrics
Go to the Mobile reports and check how your website performs on mobile.
Correlate bounce rate with pages/session and average session duration. If your website isn't a blog, a high bounce rate is the first bad omen, especially if you have a low page/session and avg. session duration.
For blogs and websites where most of the organic traffic comes through the website's blog, a high bounce rate (70-80%) is normal, but only if the avg. time on the page is high enough for a user to read an article.
SIDENOTE. Bounce rate stands for single-page sessions divided by all sessions or the percentage of all sessions on your site in which users viewed only a single page and triggered only a single request to the Analytics server.
Test the mobile page speed
Page speed is crucial. Even if you come up with an Oscar-winning mobile strategy, your conversions will be down in the sink if the website takes ages to load.
The quick way to check your mobile page speed is with Google's PageSpeed Insights.
This test will also show you suggestions for page speed improvement.
Check How Your Conversion Pages Are Performing
The conversion pages for a website are usually the contact pages, checkout pages, and campaign landing pages. There, users can perform specific actions that, when completed, will bring you a conversion. These are the pages where you especially want the lowest bounce rate and exit rate.
Check your mobile web design
The most common issue with low-converting websites is poor design. If your website looks crowded and chaotic on small screens, this will result in a negative user experience for mobile users.
For your mobile strategy to work, your website needs to be user-friendly on any screen it is shown on.
Make sure to position and size every element in a clear and aesthetic hierarchy, from logo to menu to texts and headings.
3. Develop your mobile strategy
After you make sure your website is as doing well on mobile, develop your goals and strategy.
Set comprehensible goals
In order to achieve results with your mobile website, first, you need to aim. You won't be doing that with a sniper rifle but with goals, SMART goals.
For a goal to be smart, it has to be:
Specific (use well-defined and focused, specific actions);
Measurable (put concrete numbers in your goals);
Attainable (make them realistic and achievable);
Relevant (set goals based on your business realities and needs);
Time-Based (every goal you have needs a deadline).
Let's take some fictional goals, for example:
1. Grow the number of mobile website users by 60% in the next 3 months;
2. Acquire 10,000 new accounts through the mobile website in the next 3 months;
3. Gain $700,000 in revenue through your mobile website in the next 3 months.
Outline your mobile marketing strategy
I. Brand communication analysis
What is your Unique Selling Proposition (USP)?
What benefits do you give?
What are your values, concepts, and ideas?
How does your brand help customers?
II. Competitors' brand communication analysis
At this stage, you have to look to identify your direct competitors and analyze their brands by answering the same questions from above, just as you did for your own brand.
III. Marketing Strategy
Come up with the main message for your ads. Make sure to include the USP;
Choose the communication channels and touchpoints (Organic, Ads, Social media, In-apps, etc.);
Plan messages delivery (Especially for ads – When will they be delivered? How often? For how long?);
Establish the budget (For every activity).
4. Plan and execute your mobile strategy
Communication analyses
After outlining the activities you are about to work on, you need to set what resources you are going to spend.
Your brand analysis and your competitors' brand analysis shouldn't take more than one day. These two sections can be taken care of by one person. If you have the human resources and want to move faster, you can assign two people, one for each.
The USP
It's important to keep in mind that a USP is a unique advantage only you provide to your customers. How are you better than your competition?
E.g., You have a cryptocurrency exchange. Your competitors offer online crypto-wallets inside their platforms. Your platform also offers that, but a good USP could be: "Free crypto-wallet hardware for active traders."
Benefits
When it comes to benefits, they can be common to your competitors. Also, you have to make sure you offer enough benefits so customers don't consider your competitors as a better alternative.
E.g., All your competitors have trading courses, a mobile app, 24/7 support, and direct exchange between some tokens. Make sure your exchange offers these benefits as well.
Values, Concepts, and Ideas
Values, concepts, and ideas refer to your brand ideology, affinities, the way you treat your customers, and even your internal organization. People tend to stick with coherent and consequent brands that say what they do and do what they say.
E.g., if you state that your cryptocurrency exchange wants to make tokens accessible worldwide but geographically blocks all of Asia, that is a massive inconsistency. Even something as simple as saying 24/7 support and not being able to meet the standard requests will be seen as an inconsistency.
Help Your Customers
How does your brand help a customer is one question that should have been answered even before the business started. It refers to the utility, the problem it solves, and the reason a human being would invest resources in a certain product or service.
E.g., A crypto exchange allows customers to trade digital currencies for conventional fiat money or other digital currencies.
Execution
After you identify or come up with the core message for your mobile marketing communication, prepare your ads and texts. There are lots of types and formats for mobile advertising, so you need to pay special attention here.
Prepare Content
To develop your mobile content, you should work with an agency and regularly develop new materials. If you don't want to work with an agency and don't have the internal resources to do that, you can always contact freelancers on dedicated platforms.
A good copywriter, a talented designer, a skilled video maker, and maybe a decent animator should suffice.
Whether you work with an agency or a few freelancers, you should have your content ready in one or two weeks. Once delivered, the materials can be reused for a while. Remember to update your content because it will get less relevant in time.
SIDENOTE. Besides your regular content, the best practice is to have dedicated content (articles, ads, media) for the main Holidays of your audience. 
It's most preferable to focus on evergreen content, content that remains relevant in time.
Even something like a presentation video that you have used for years can lose its relevance if you have gone through a rebranding or your field of activity has gone through major transformations.
Content Delivery
For mobile organic traffic, hire a professional to target mobile users with SEO. This is a long process that may take up to a year or even more.
Also, SEO is an activity you should constantly keep your eyes on. Once you get the rank you desire, don't take that as a given.
You can lose your position overnight due to algorithm updates or competition.
Assign a person for your social media. Improve your social media presence because out of 4.90 billion active social media users, 4.47 billion are active mobile social media users. That's 91.41%. Social media is a good medium to share your content, and most platforms offer some advanced advertising tools dedicated to mobile.
SIDENOTE. Focus only on social media platforms that are relevant to your business. LinkedIn is an appropriate platform for a cryptocurrency exchange because its users are there with professional or business-related interests. Instagram isn't, for obvious reasons.
Assign a person to take care of the ad platforms. Through ad platforms, you can do search, display, in-app, push notifications, and even SMS ads. Schedule planning shouldn't take more than one or two days.
The budget is another one-man job. It is important to take into consideration the maximum budget allocated for internal resources, external resources, professional services, advertising, and link building.
5. Evaluate Your Mobile Marketing
First and foremost, you need to have a look over the SMART objectives. You did set a deadline for your goals, so once you meet the due date, see in what proportion you reached the targets.
1. Grow the number of mobile website users by 60% in the next 3 months.
At the end of the said 3 months, you will check if the number of website mobile users grew by 60%. If it did, congratulations. If it didn't, you underachieved. If it grew from over 60% to 100%, even more, you did great.
2. Acquire 10,000 new accounts through the mobile website in the next 3 months.
You do the same with the second goal. After 3 months have passed, you will check the number of signups that took place through your mobile website and see if you have gotten more or less than 10,000 new accounts.
3. Gain $700,000 in revenue through your mobile website in the next 3 months.
When measuring this goal, make sure to separate mobile revenue from the others. It's important to be as accurate as possible here because you want to measure your mobile marketing efforts' results.
Secondly, check if your activities did fit into the budget.
You may have achieved your SMART goals and even got 700 grand. The allocated budget was $500,000. If you did achieve all your targets without surpassing your budget, you could throw a party. If you exceed your budget, you need to optimize your campaign.
And before you go, always remember to calculate your Return on Investment (ROI).